Rakes and shovels are mainstays for gardening and yard work. But there are a handful of really innovative tools out there that are designed to help you get the job done easier.
Leaf Collection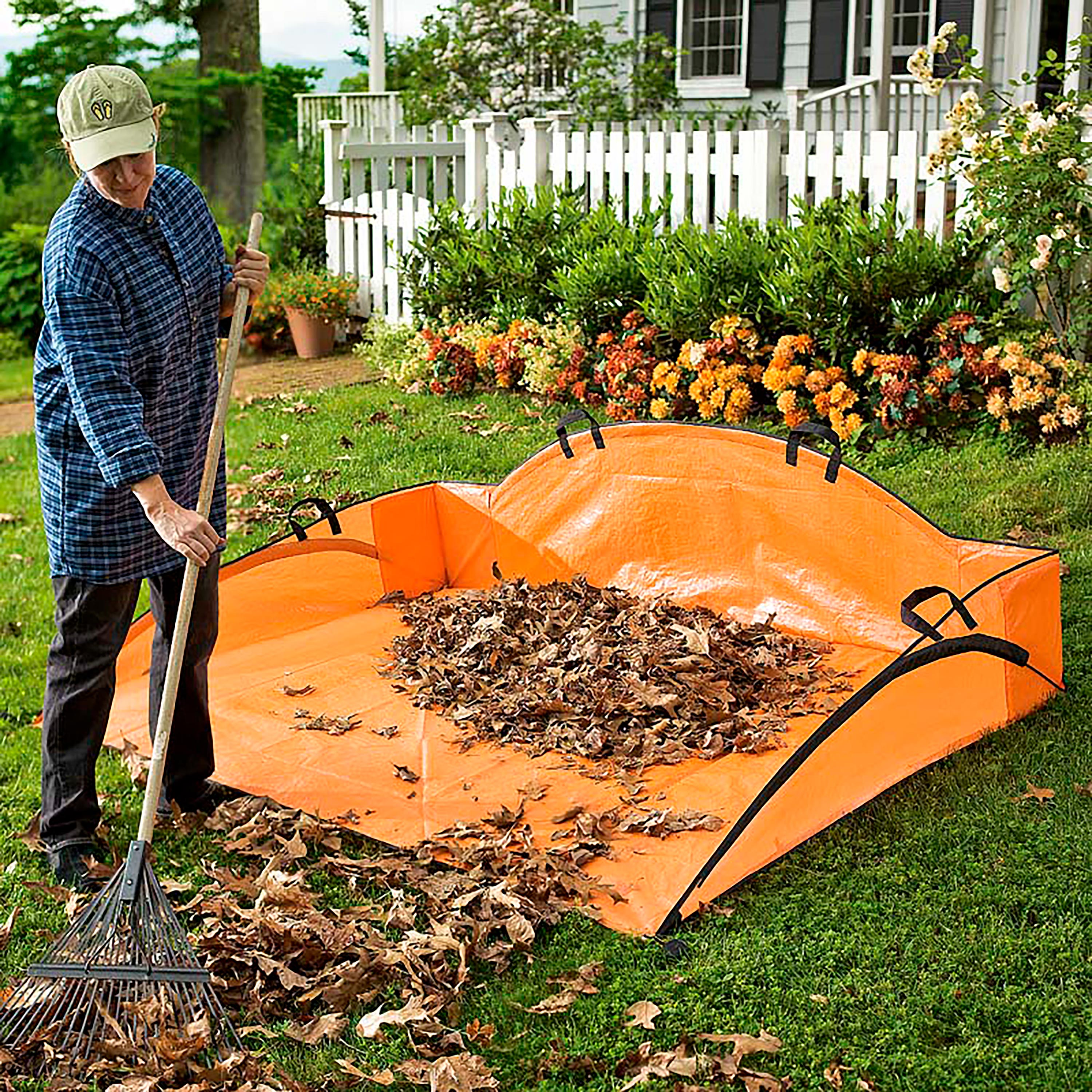 The EZ Leaf Hauler is one of those inventions that you never really knew you needed until someone came up with it. It pops out into a self-standing "dustpan for leaves" that you can rake debris into and easily transport to your compost pile or wherever you plan to "leave" your yard debris.
The fiberglass rods and woven polyester resemble the framework and material of tents. It holds up to five times the amount of yard debris that a standard wheelbarrow can carry. It's offered by Plow and Hearth and carries a one year warranty against manufacturer defects, more than enough time to put it to the test.
EZ Leaf Hauler – Holds 5X More than a Wheelbarrow
Click to check the latest pricing from Plow And Hearth
Yard Sweepers (Push and Pull-Behind Models)
If you prefer not to do manual raking, yard sweepers can be a handy way to collect leaves, grass clippings, and other small debris without breaking your back.
Earthwise makes one of the less expensive push models (link to Amazon). It has a 21-inch brush width and is perfect for a small yard where a push mower is appropriate. You simply push the yard sweeper around like you would a push mower and it collects leaves and other debris into a removable collection bag.
If you aren't using a mulching blade when mowing, a yard sweeper can really help when it comes to collecting grass clippings and leaves for a compost pile. Before I started mulching I used to rake up grass clippings for my compost and it was a real pain in the back (literally). This is one of those tools that you don't realize you need until you have used one.
Click Here To Check Latest Pricing (Link to Amazon).
If you have a larger yard like I do, consider a pull-behind yard sweeper like the Agri-Fab 45-0320 (link to Amazon). This one hooks onto the bag of your riding lawn mower and you simply drive around the yard letting it sweep up and collect yard debris into its 12 cubic foot collection bag. It even has a dump handle feature that allows you to empty the bin without getting off your mower.
Of course, these aren't meant to pick up limbs and large rocks. But for leaves, grass clippings, and the like, yard sweepers are one of those great inventions that have to be used to be appreciated.
Leaf Mulcher
Once you have that big pile of leaves collected, what do you do with them? One solution is to add them to a compost pile. But to speed up the decomposition, it's important to tear up the leaves into smaller pieces. You can do this with a riding mower using a mulching blade but in those cases, you are probably better off just leaving them on the lawn. If you want to mulch the leaves that you collect, the simplest solution is to use a leaf mulcher like the bladeless WORX WG430 (Link to Amazon). It's electric and folds up for easy storage but you can pull it out whenever you have a pile of leaves to work through and mulch them right into a bag then drop them into your compost pile. Toolless assembly is a big plus for those who are not mechanically inclined and it's capable of turning 11 bags of leaves into a single bag's worth of compost-ready material.
Workx also sells a foldable bag that you can purchase through Amazon but I would just put a small trash can under it with either regular trash bags or if you really want to take advantage of the eco-friendly nature of this, use compostable trash bags (link to Amazon) and just pile them up and let the leaf mold process begin. Then start a compost pile right on top of them!
I really like tools like this for collecting and mulching the leaves from your yard, especially in the fall.